Coal mining

Coal mining by open-pit and underground method. The company pioneered unique mining technologies in Russia.
Denisovskaya Central mine is the only mine in Russia using room-and pillar mining. Kolmar has been the first company in Russia to receive permission to use this method at a depth below 200 meters.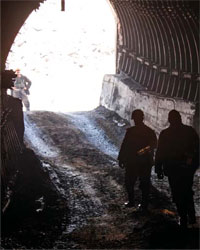 This technology offers new opportunities for mining coal at deposits where, due to geological conditions, other mining methods are not applicable
The second mine, Denisovskaya Eastern, will become another unique project. It will be located in the license area adjacent to the Central mine area. The mines will be interconnected, and the new mine will use the existing infrastructure. Even the exit of Denisovskaya-Eastern to the surface will be provided from the Central mine. Denisovskaya Eastern mine will use stoping method (longwall mining). The prime cost of production using mechanized longwall equipment is twice less than with the room-andpillar method. This technology will significantly reduce the costs associated with the production of runof-mine coal and will minimize coal losses during mining.