GOK Inaglinskiy

Inaglinskiy project is the priority development project of the Far East of Russia (Decree of the president of the Russian Federation № 484-р dated 03/23/2015).
GOK Inaglinskiy includes: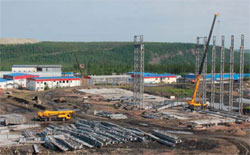 Inaglinskaya-1 mine ((under construction)
71.3 Mt of coal reserves for underground mining
Inaglinskaya-2 mine (under design)
648.3 Mt of coal reserves for open-pit and underground mining
Inaglinskiy open-pit coal mine
Open-pit area (in operation)
JSC Mining and Coal Preparation Complex Inaglisnkiy develops the reserves of Chulmakan stone coal deposit (Central, Eastern, Northern, and Western areas) within the boundaries of the allotted licenses. Construction of an open pit in the northern part of the Western area commenced in 3Q 2014. At present, the open pit produces 2 Mta. Inaglinskiy open pit is the first facility of GOK Inaglinskiy and provides raw material to Inaglinskaya-1 coal preparation plant.